They say never patch a flat tyre and always buy a new one.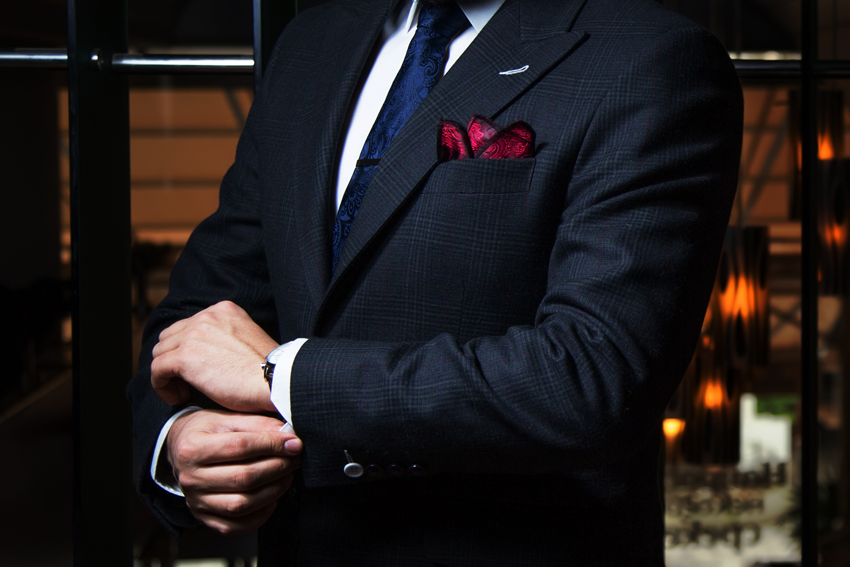 Well, literally, for road safety, we agree.
But if you figuratively mean the "flat tyre" is a well-tailored suit that you already had for years and you have used quite a few times before, we say, you can truly "patch" that.
By "patch", we mean that with a little touch of flair and style, you can absolutely upgrade your classic outfit without spending too much.
For patching up your old suiting ensemble, you can always start investing with the simplest yet most versatile accessory for men: the pocket square.
Here, we will teach you how to fold this centuries-old garment to a Three-Point pocket square.
What is a Three-Point Fold Handkerchief?
The three-peak fold is considered a more formal type of pocket square style. Familiarising yourself with this will surely save you on both business and formal social events.
This may seem to be a fancier version of the two-point fold and may sound a bit intimidating, but rest assured that we will be here to guide you all the way! As the experts, we'll explain how to make this quite complex technique to be as easy as possible.
How to Style a Three-Point Handkerchief
Plain satin or patterned silk handkerchiefs will surely show up very neat and crisp with this kind of fold, but a well-ironed cotton fabric will also do the trick. Since the three peaks already register strength because of its structure, it will work well on both muted or brighter colours of pocket square, depending on how much you want to stand out.
If you chose to wear a nude or light coloured suit, a pocket square with patterned fabric and deeper hues will add pizzazz to your overall look. While a handkerchief with a more neutral shade will definitely stand out if you want to wear a darker coloured jacket.
So now that we have taken all of that in consideration, let us guide you in achieving this fancy, symmetrical fold!
How to Fold a Three-Point Handkerchief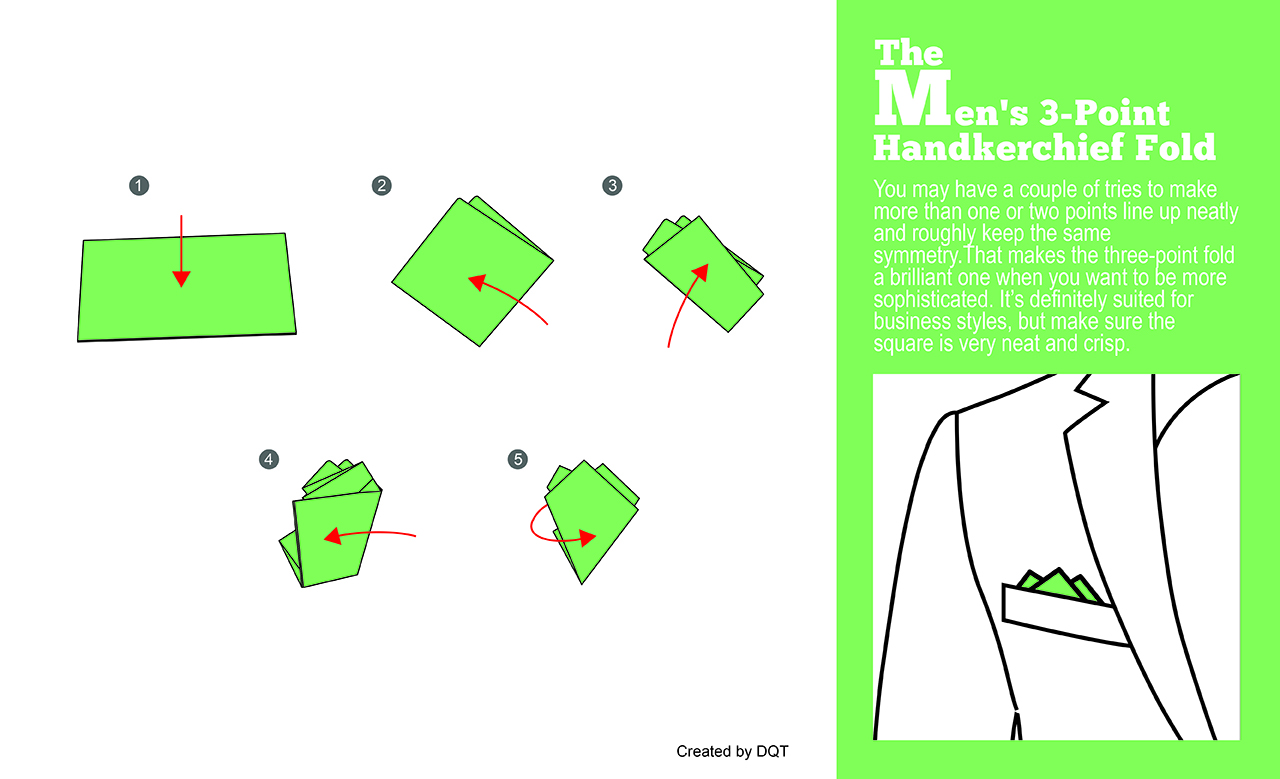 Lay out your handkerchief and fold it in half all the way from corner to corner.
Now working on a rectangle, take the right bottom part diagonally upwards going slightly to the left side. Here, the two offset corners will be two of the visible peaks of our fold so you can decide the gap between the them.
We're almost there! Now, gather the other left bottom part across to the right side of the middle peak. The three peaks should be visible by now. Try your best to balance them with similar sizes of peaks and spaces between them as much as possible.
Great job so far, gent! Now, gather the remaining part on the left side and fold it across going to the right, just so you can neatly adjust the folded handkerchief based on the width of your jacket pocket.
Lastly, turn it over to reveal the front side of our fold. Tuck in the folded handkerchief to your jacket pocket and adjust as needed. Make sure the three peaks are centered and defined.
Blimey, you are such an ace! Now, you have the three-point fold pocket square. As we have mentioned, this classy, versatile fold will be a great way to spice up your outfit whether you're just heading to a posh restaurant with someone special or you aim to impress new clients on a business presentation.
Whichever way you choose to style your pocket square, always remember that it will be a representation of your own personality. First impression lasts, as some would say.
So, having this much attention on how you present yourself will surely leave a great impression to whoever you meet at any business or social event.
View our complete 11 Ways on How to Fold a Handkerchief here.
Shop for new pocket squares now at DQT and achieve this three elegantly structured peaks to show them who's on top!