If you are feeling a little extra and want to impress people in a social or business gathering, why not try having a little, subtle crown peeking out of your jacket pocket?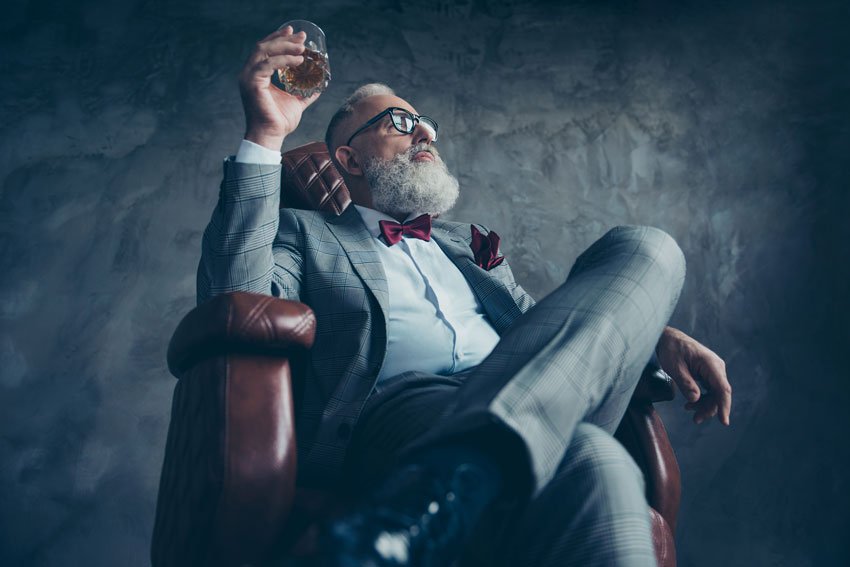 Having a crown fold pocket square will make you feel regal and will help you breakout from your comfort zone in an elegant manner.
What is a Crown Fold Handkerchief?
It's quite similar with the three-point fold, but the crown fold handkerchief has more dramatic points with a prominent middle part, and slightly diagonal points at the side.
It should resemble a structured crown rather than just a three-peaked mountain. So, the positioning of the points is very important.
With its dramatic and elegant vibe, a crown handkerchief fold is definitely not for the faint of heart. But as your knights in shining armour, we're here to save the day.
Here, we will guide you on how to fold and style your handkerchief like a crown suited for a royalty that you are!
How to Style a Crown Fold Handkerchief
The crucial part is making sure you pick out the best handkerchief for this classy folding technique. It is vital to find a colour that will complement your overall attire and embrace your personally at the same time.
Since we're trying to make you feel like a king here, you can opt for regal colours like burgundy, emerald green or deep purple. Sounds pretty classy, eh?
Burgundy is much deeper than red, but shows off the same amount of elegance without being too flashy.
Emerald green is a colour with the balance of sophistication and charm, which can be outstanding in both plain or patterned pocket squares.
A deep shade of purple works wonders in an intricate floral pattern, especially when accentuated by a darker colour like black.
Now, let us get down to work. Let us guide you on how to fold a handkerchief like a crown in just a snap!
How to Fold a Crown Handkerchief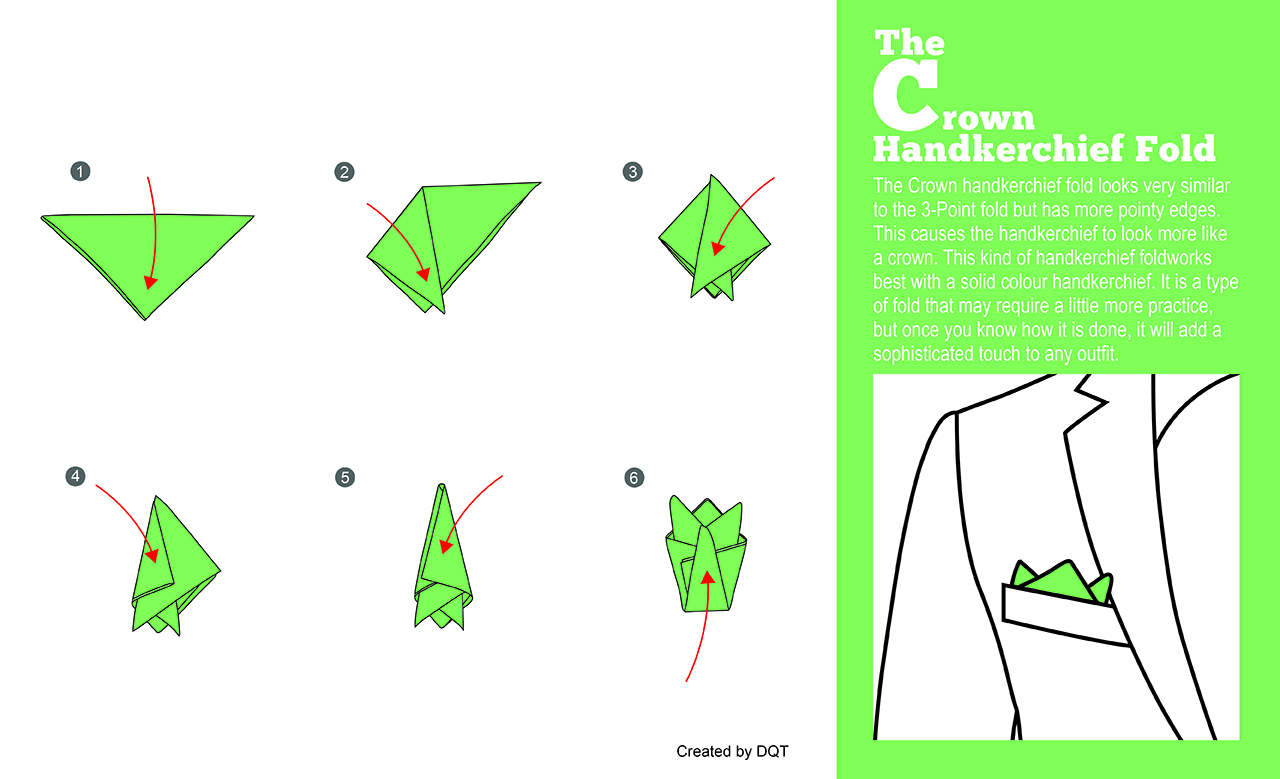 Lay your handkerchief like a diamond, then fold it in half downwards exactly from top to bottom point.
From an inverted triangle, gather the left side corner slightly out of line and place it on the right side of the middle point.
Then do the same thing on the right side corner and place it on the left side of the two visible points of our fold. You should see an inverted crown by now.
Now we have to tidy up the fold to make sure it will fit your jacket pocket. Start by folding the remaining fabric on the right side halfway to the middle.
Hold the fold firmly and do the same thing on the left side. Try to fold it as neatly as possible because our goal is to make it less bulky.
Fold the bottom part going upwards to the middle section, making sure it will fit how deep your jacket pocket is. Now, turn it around to reveal the front side that would show up three distinct points that looks like a crown.
There you go, sire! That is how you fold a crown pocket square.
Yes, this type of pocket square fold might seem quite intimidating, but we guarantee you that it is absolutely wearable. The key here is you have to be committed and focused.
If you decide on wearing this powerful statement piece, make sure it will be the only focal point of your whole get-up. Pair it up with more neutral pieces for your shirt, suit, trousers or other accessories. In this manner, the whole vibe will not look too busy.
View our complete 11 Ways on How to Fold a Handkerchief here.
Show everyone that your confidence will always be your crowning glory! Tag us on Instagram or Twitter, or share your photos with us on Facebook.