As a bold, clever gent, you may be searching for ways to step up your suiting game.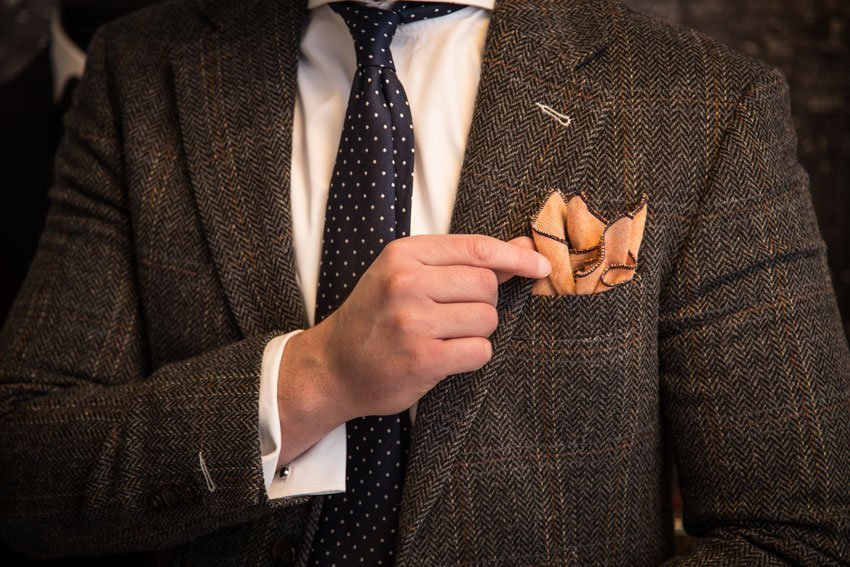 Well, what other way to go than showing off with a four-peak folded handkerchief?
What is a Four-Point Handkerchief Fold?
Having four flashy, structured points, this folding technique will register the perfect balance of splendour and formality.
The four-point pocket square might need a little origami skill. Now, that may sound a bit complex, but we are here to prove to you that styling and doing this intricate folding style is easy with DQT.
How to Style a Four-Point Handkerchief
Picking the right type of handkerchief for the four-point fold technique must be done carefully.
We recommend you opt for thin materials such as linen or cotton fabrics. This kind of fabrics are sturdy enough to hold the peaks and will surely appear crisp and neat.
Since it will require more folding, thick fabrics might be too bulky, which is something we're trying to avoid. Bulges on your jacket pocket aren't the best way to go.
If you want to look sharp on a business meeting, plain, solid colour should be a great a choice. To make it eye catching without looking too comic, opt for patterns with tiny or thin details or sparse spacing.
But if your goal is to look dashing while having a bit of fun, you can also use a patterned, say, a pastel polka dot, to break up and balance out the structured peaks.
How to Fold a Four-Point Handkerchief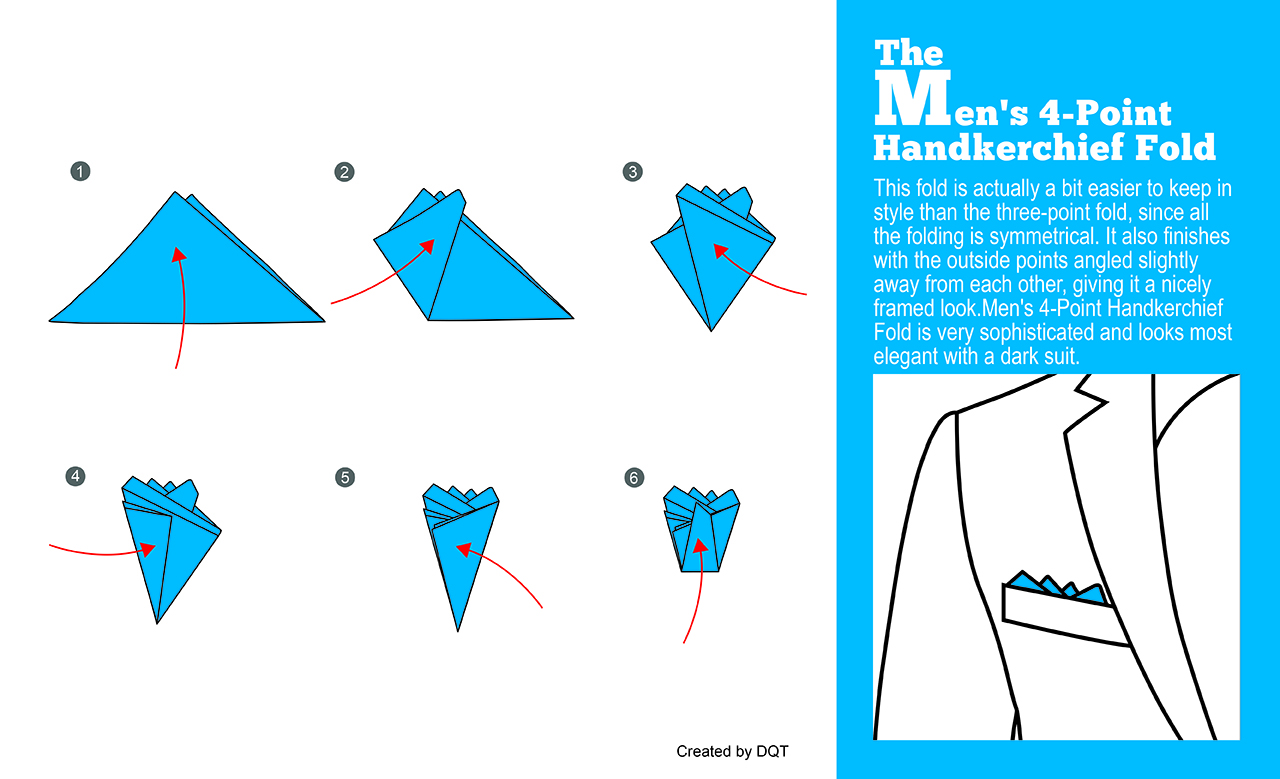 Position your handkerchief like a diamond. Grab the bottom part and fold the handkerchief going upwards. Remember not to perfectly match it to the top point. This will create the second peak on our fold.
Now working with a slightly skewed triangle, gather the left side and drag it diagonally upwards to the right side of our two peaks. We should have three points by now.
Then, do the same thing on the bottom right side by gathering it and folding it across upwards to the left of the peaks we have created. Adjust the peaks according to your preference, but always make sure they are as even as possible.
The four peaks should be visible by now. Fold the right bottom part inwards going half the middle.
Hold the middle part firmly, and do the same thing on the left side. Fold it inwards to reveal a slimmer bottom, which should be slim enough to slip it inside your jacket pocket.
Now, having a cone-shaped fold with visible four peaks at the top, you can fold the bottom part upwards all the way to the centre depending on how deep your jacket pocket will be.
Amazing job! That is how you fold a four-point pocket square. It will definitely look stellar on both plain or patterned handkerchiefs.
In general, simply keep in mind that strategically, your pocket square is positioned close to eye level, making it something worth investing both your time and effort.
Picking the right fabric, colour, or folding style will speak highly of your personality and intentions at any business or social setting.
View our complete 11 Ways on How to Fold a Handkerchief here.
Get that perfect pocket square for this fold here at DQT!