Did you ever wish that a course like "How to Fold Pocket Squares 101" is being offered in uni?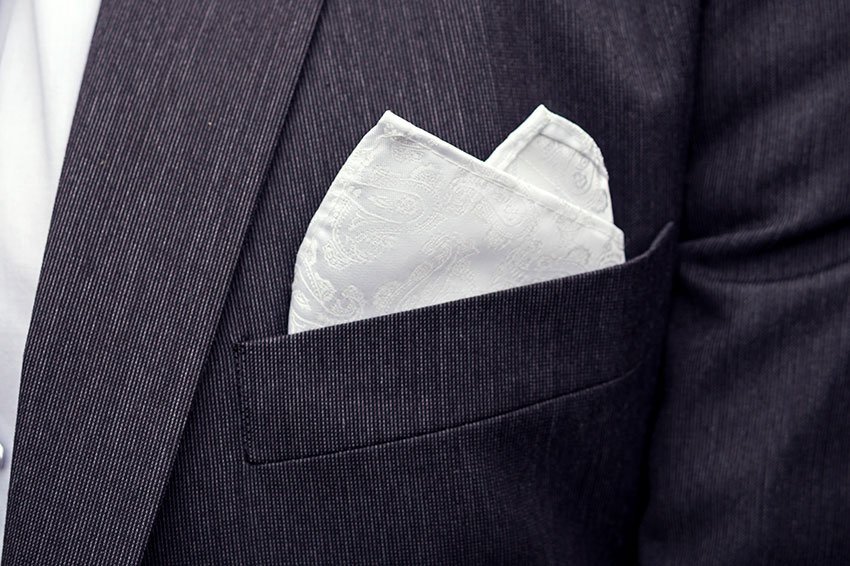 Well, we say, you don't have to! As the experts, DQT will be your guide on how to be a classical, well-dressed gent without spending heaps of dosh.
Some men may find it a bit intimidating to craft the art of folding pocket squares. But just like other skills you are trying to learn for the first time, practice is the key. Here, we can start with something quite easy yet striking enough to make you look dashing – the Two-Point fold pocket square.
What is a Two Point Handkerchief Fold?
A two point handkerchief fold offers a symmetrical touch on your outfit. You can spice up a bold, solid coloured pocket square with this versatile technique of folding. The two distinct peaks will absolutely flare up a plain handkerchief, which is the perfect touch to match your monochromatic ensemble.
Even though a two-point pocket square fold is distinct in terms of careful folding and formality, this can also handle louder patterns, hues, or fabric, such as florals, reds, or viscose.
How to Style a Two-Point Handkerchief
More often, gents nowadays opt for well-ironed starched or cotton fabrics for this type of fold since they both hold their shapes well.
If you are just starting to master the art of pocket square folding, you can try a Chambray Cotton handkerchief and practice this technique. But once you have done enough practice, folding satin pocket squares will be a doddle.
Though this classy trick of pocket square folding has been known to work on formal occasions, using this on a more casual setting would definitely scream sophistication. After all, two is better than one, right?
How to Fold a Two-Point Handkerchief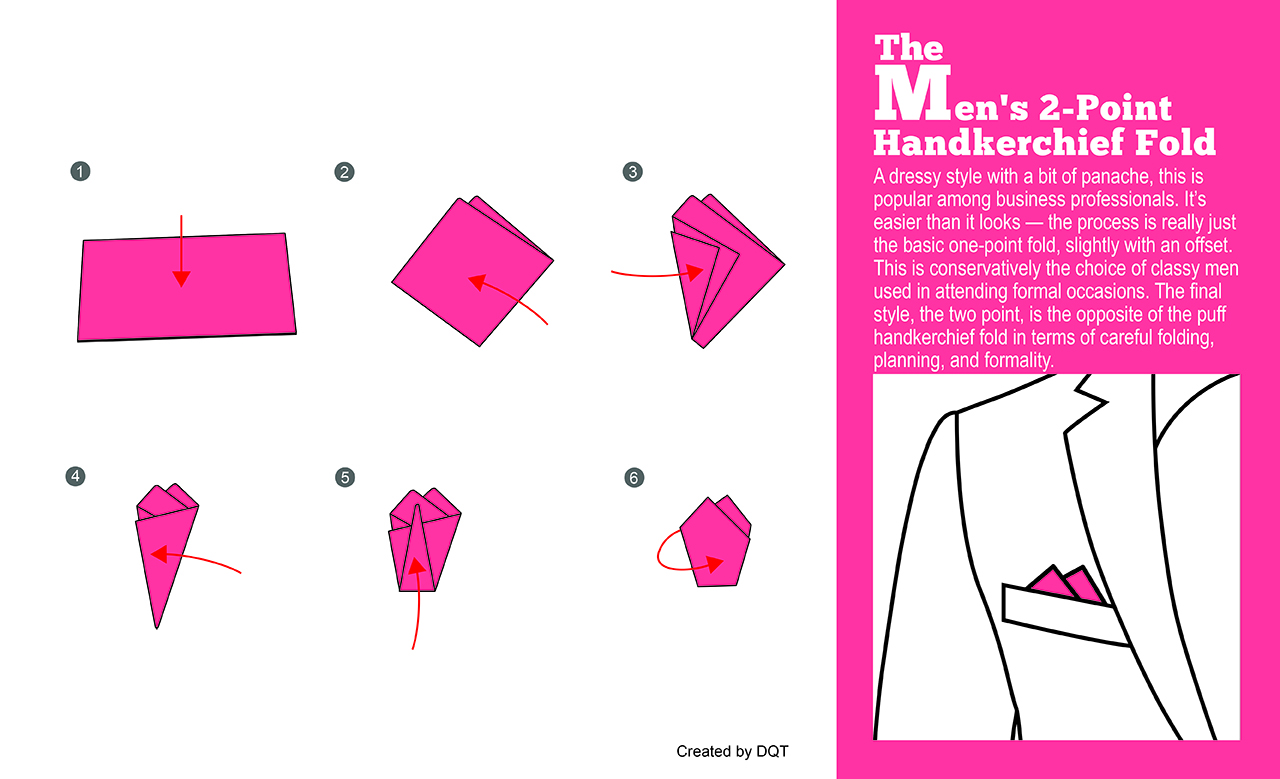 Fold your pocket square in half horizontally, all the way from corner to corner.
From here, you should already have a rectangle. Fold the bottom right corner up, but instead of perfectly matching it, have it slightly askewed from the other point to create two peaks. The amount of distance of the two points would depend on your preference.
Having a diamond shape now, you need to gather the left side and fold it inwards, approximately two-thirds of width. These will be hidden, so there's no need to worry about these folds.
Then, gather the right side of the folded fabric inwards across to meet the other side. By now, your handkerchief should have created a cone-shaped pocket square.
Now, this is where you fold the bottom part of the cone upwards to match the height of the pocket of your chosen jacket or suit.
Lastly, you can hold your folded handkerchief firmly and turn it around to reveal the front part you will use as your pocket square. Just always make sure to flatten the fold as much as possible to avoid unwanted bulge on your pocket.
So, with just a little attention to details and some careful folding – voilà! You have a two-point handkerchief. With this handy guide from DQT, using a plain solid fabric with basic colours like whites, navies, greys, and blacks will register a more conservative yet suave look.
But since this type of folding is already simple as it is, we absolutely encourage you to be bold. Using this two-point fold technique, you can also tog patterned fabrics, say, a Pastel Polka Dot handkerchief, to match your personality or add something extra on your tailored suit.
View our complete 11 Ways on How to Fold a Handkerchief here.
Now, you can sport this all-around, classic fold for you to save time and effort without looking undone. Go ahead and start practice folding! Tag us on Instagram or Twitter, or share your photos with us on Facebook.