When it comes to the special day, the bride is always the centre of attention, but the men involved must look great too! A man has a lot to worry about as he receives the wedding invitation. Between the tuxedos, toasts, relatives, and strange guests, everything may become too much to handle. Plus the media excitement that surrounds the grand occasion, and you realize that wedding season is a lot more inescapable this time of the year.Then, why not begin with overcoming the first challenge – your outfit. Choosing the perfect tux or suit is half the battle when considering showing up at a wedding. Here are some tips to make putting together the proper clothing as easy as captivating charmed bridesmaids.
Suiting Up
The suit is the centerpiece of men's wedding fashion. Generally speaking, if you are involved in the event, you will wear a tuxedo. If you are pretty much a guest, however, you will be okay in a suit. The colour and style of the suit you put on are determined by the kind of attire stated in the invitation.
White-Tie/Full Evening Dress
By tradition, this is a suit with tails, an overcoat, a top hat, a cane, and, apparently, a white tie. It is something Fred Astaire is known for, and even while it is relatively rare for weddings, this particular outfit will occasionally be required.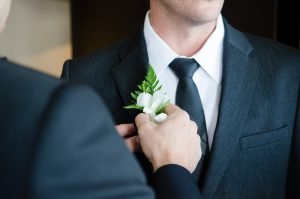 Black-Tie Only
This is a formal wedding event, and you will require a simple suit – even if you are simply a guest. Opt for a black-coloured jacket with grosgrain lapels or satin, trousers (often with a silky stripe down the part), along with a cummerbund and a bow tie.
Black-Tie Preferred
For those who are in the wedding party, be ready to wear a white dinner jacket (in summer/spring) or perhaps a tux. If you are a guest, a black suit is okay. This stylish fashion often shows up on invites for daytime weddings. As party people can be being seen wearing English day suits, you will look sharp donning a tweed, cotton or linen suit in a classic dark colour or an earthy colour.Struggling to get inspiration for your wedding wear? DQT Ltd. offers a wide selection of fashionable men's wedding wear and accessories in the UK. Browse the largest collection of men's wedding accessories for your wedding ties, cravats, cufflinks, wedding waistcoats and more.View more wedding black ties here:
https://www.dqt.co.uk/black-ties.html