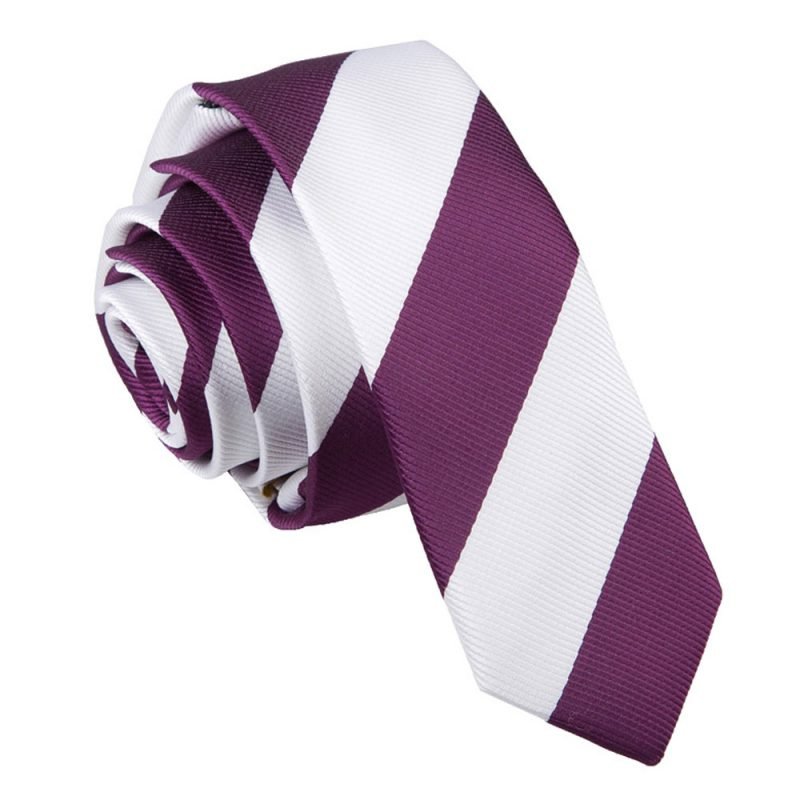 The striped tie – a staple of any man's wardrobe, and a great way to add a dash of colour to an outfit.
The first recorded use of a striped tie was when the rowers of Exeter College, Oxford, took the trim from their boaters and tied it around their necks as a way to identify themselves with their school.
Nowadays it's one of the most popular choices for interviews, meetings and even the good old daily grind. There are so many variations, too – thick stripes, thin stripes, two colours or more. No wonder the striped tie remains a firm favourite!
As with any piece of patterned clothing, it's important to take care when matching your striped tie with the rest of your outfit. You want to come across as smooth and debonair, not the guy who's remembered for a distracting clash of styles and colours.
So, how do you pick the perfect combination?
You'll generally decide on your shirt first, so your choice of tie will depend on that. When it comes to colour, if your shirt is plain and in a neutral shade such as black, white or grey, it's a simple task – you've pretty much got free rein when it comes to colour and pattern.
But what if your shirt is a pale blue or nutmeg brown, or has its own pattern? In these cases, choose a tie that matches the dominant colour of your shirt in some way – perhaps one that has thin stripes in a similar colour on a contrasting main shade. This will ensure you look co-ordinated while still boosting your overall appearance with a bright splash of colour.
Two patterns of the same size look too busy and grate on the eye, so it's important to make sure there is a clear difference here. If your shirt has a small pattern, choose a tie with chunkier, broader stripes – and vice versa. If you follow this simple rule, you'll be amazed at the range of eye-catching but elegant combinations you can wear.
Everyone deserves clothes that catch the eye, so go ahead – ring the changes with a range of differently-striped ties and turn heads for all the right reasons!
You can see DQT's range of striped ties here http://www.dqt.co.uk/striped-ties.html.