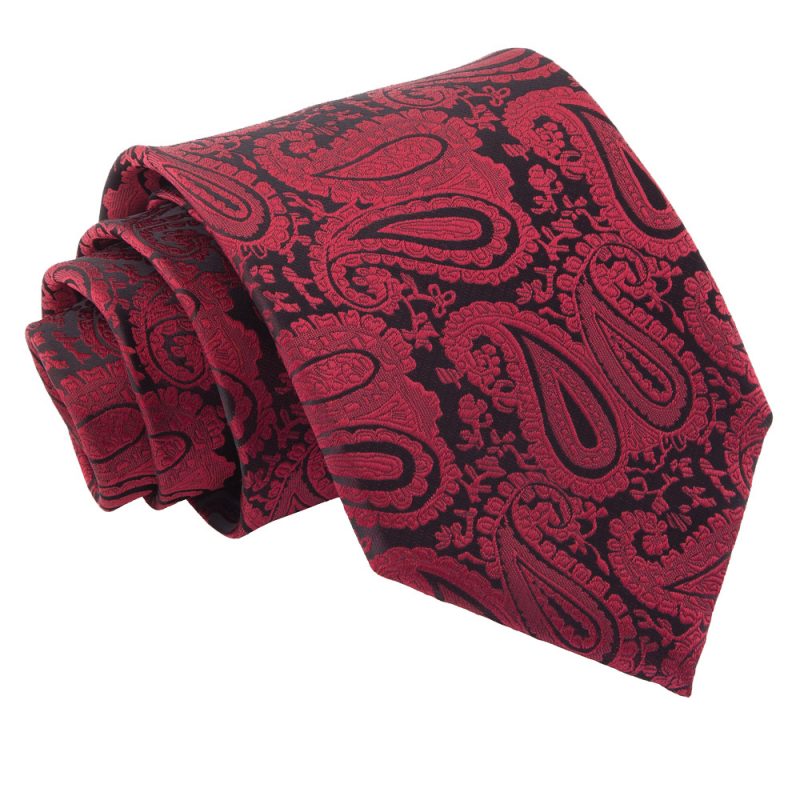 The paisley tie speaks of creativity and cheerfulness of the wearer. The often warm colours used for this pattern summons attention. They are best worn during parties, cocktails, informal dinners, and over a solid-coloured dress shirt. Patterned or striped garments not only subdue the tie's classic colours but the design mismatch also often leads to a fashion disaster. Use the background colour of the paisley to discover the appropriate suit and shirt colour. Paisley ties should complement your clothes, not clash with them. Paisley ties have made a comeback in the recent years. The design first enjoyed the limelight during the early sixties; it was the tie of choice by John Lennon and the cultural movers of that period. Soon after, it found an association with the hippies and the summer of love movement.
The paisley design is one of the menswear's most elegant, intricate and enduring designs, one which speaks to the history of British tailoring and as well as the history of garment weaving too. The beauty of Paisley lies in its complexity; to get the best out of it, give it some space to breathe. Try to layer a wool paisley tie over a chambray shirt for a luxurious, textured look, or maybe add one of our madder paisleys over a classic striped shirt for a clever combination. It may look contradictory, but paisley patterns with fewer colours and lots of white space will look bolder than the ones with more fill-in. If you don't wish to look like a gangster on holiday, look for garments with thin lines and few white space. From a distance, it will virtually look solid.
A simple rule for matching your dress shirt and your paisley tie is to keep the patterns on your shirt minimum, and constantly have a bigger pattern on your tie rather than on your dress shirt. Try to match a background colour on your tie to your dress shirt also. For example, a paisley tie with a red background, green outlines, and yellow paisleys for the design would go perfectly with a green dress shirt. Also, note that a plain white dress shirt goes with anything, and it's always a safe bet. Nonetheless, a coloured dress shirt can look absolutely astounding when done properly. Just make sure to match the shirt to a low-key colour in the tie so as to not look overmatched.
You may ask, what would be the proper colours to wear to celebrate these seasons fully? Darker shades, for example, myrtle, burgundy, and cerulean are best for fall and winter. The palette as well speaks highly of the wearer when he is meeting with potential clients or probable bosses. Meanwhile, brighter shades such as yellow, orange and azure are the colours of spring and summer. The pattern still impresses tradition, accentuated now with a casualness that comes with the season.
View More Paisley Tie Collection here.