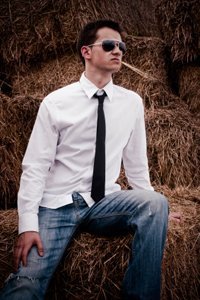 At some weddings, the choice of a full blown morning suit with a classic cravat or traditional tie for the groom would be totally appropriate. At a traditional village church wedding for example, in a classic setting, this look would be just right.
However, nowadays many brides – and therefore their grooms – are looking for something a little out of the ordinary, something to make the day more personal and reflect the personality of the couple. With more and more civil ceremonies taking place, some of them in really stunning locations, the suit is becoming a very popular choice for the modern, stylish groom.
Just as the wedding dress itself has become simpler and more streamlined over the past few years, so has the choice of suit for the groom. Cool contemporary wedding outfit designs are all about creating elegant, slimline silhouettes, both for the bride and groom, giving a refined, polished look overall. Simplicity and elegance are the keywords, and in the world of men's suits, the style of choice for this look is the tailored slim fit suit, which is set off to perfection by the skinny tie.
Skinny ties ooze style and contemporary cool. When the overall look is sleek, a traditional tie will look cumbersome and out of proportion, so the skinny tie is perfect. It's a way to bring a dash of colour to the groom's outfit, and as DQT have over 100 designs of skinny tie in stock, there is bound to be something that will complement the colours and themes of the wedding to perfection.
The choice of wedding tie for the groom and his best man is an opportunity for the groom to add a little contemporary flair to his outfit – after all, while the job of the groom's outfit is to complement his bride's beautiful dress and the overall look of the wedding, he still needs to feel relaxed and like himself on this most special of days. Men's wedding ties in the bridal party are a lovely way to tie in the colour theme of the day while still looking sleek and modern.
View the wide range collection of Skinny Ties: http://www.dqt.co.uk/skinny-ties.html