The patterned vs. plain debate in the wedding tie context is widely argued amongst the tie wearing community. Some men believe that the patterned tie is just not appropriate for wedding attire; some think it's simply not sartorially chic to wear a plain tie. There are pros and cons for both styles!
There are quite a few variables that can influence the choice of tie for your outfit, whether you're wearing a waistcoat, the shirt you have chosen and whether you're thinking of wearing a pocket square, these questions all matter! The type of tie that you are sporting can affect your choice of fabric, for example if you're thinking of sporting a standard necktie, a plain pattern, in our opinion, looks the chicest. If you're going for a skinny, bow or cravat though, the options are endless and this choice will depend on the other factors.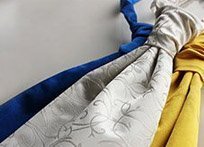 The Pros & Cons of Plain & Patterned
The plain tie is a fantastic choice if you don't want to stand out too much. If you're the groom, and you want all eyes on you, why not go for an attention seeking and colourful option that fits in with your chosen colour scheme? Plain is probably more formal and perfect if you're going for a really sleek look but a patterned tie definitely injects more personality into your outfit.
If you're a guest, why not go for a patterned tie? You're more than entitled to, as you don't have a colour scheme to keep to like the bridal party do. One problem with the patterned option is the fact that it can be difficult to match with other patterns, as a guest you could try a spotted tie with a striped shirt for a really bold look.
Wedding cravats look great in both patterned and plain designs, it just depends how much else you have going on in your wedding. If you have a lot of intricate details it may be best to go for a plain tie so it doesn't look too much in photographs and provide added visual confusion.

What's your take on this debate? Are you a patterned tie man or a plain and simple type of guy?
DQT Striped Ties are available here: http://www.dqt.co.uk/ties.html