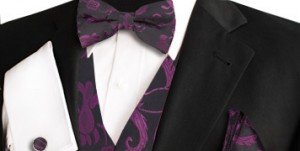 Some grooms may not be too keen on the idea of 'floral' and 'grooms wear' being in the same sentence for their weddings, others may be joyous at the thought of it, but whatever your opinion, you might find something that would work amazingly with the rest of your wedding, so keep yourself open to suggestions!
You might also think that floral wedding accessories should be kept to the springtime, but they can definitely be used over all seasons. You just need to get the colours and tones right to coincide with the seasons! For example, try a pale yellow or blue for a spring or summer wedding and the darker purple for an autumn or winter wedding to really pick up the colours of the changing season. The lovely white and silver colour that DQT offer can work for both seasons making it an extremely versatile option.
Coordinate your floral accessories with the actual bouquets for the day by putting your head together with your bride to be and have a chat about the types of flowers that will be used. They all need to look consistent with your over all colour scheme, so if a tie doesn't work, change the tie, not the colour scheme.
Bow ties, cravats and normal or skinny ties work well with floral designs, there's no end to the options that they provide! Just make sure that you pair the right tie with the right type of suiting. A grey or navy slim cut suit would look really slick and smart with a skinny tie in a brighter floral colour and print. A floral cravat would look the best with the traditional morning suit, try and keep the colours more neutral with this choice; a bright pink option may not look appropriate.
For a bow tie, if you're definitely going for a floral option with this perhaps try this with a more relaxed suit in perhaps a woollen fabric, without a waistcoat and with an Oxford shirt as opposed to a standard dress shirt. This creates a more casual and sartorial take on the standard wedding outfit. This woollen idea also works well with a skinny tie, either in a floral design or a knitted fabric. If you still want to incorporate floral accessories into your look, try a floral shirt with a knitted tie or a floral pocket square without a tie for a really stand out look.
Hopefully this has provided some floral inspiration, whatever season you're having your wedding in!Floral Design has become a new trend in the tie industry. Floral or Passion Cravats are available at DQT: http://www.dqt.co.uk/floral-cravats.html