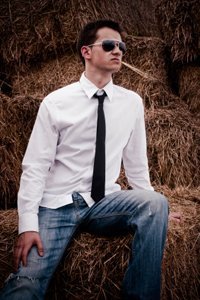 Back in 1975, Mr William Hirsch, then chairman of the Tie Manufacturers Association, said that no fashion writer should claim that the wearing of ties was dying out. To write such, in his opinion, was tantamount to "professional suicide". On the contrary, it was his boast that the new ties, that year, "will be the smile in a man's wardrobe."
Forty years on, and the trend, going into 2016, is for thin rather than wide; discreet, as opposed to loud. A tie is, above all, an essential accessory and not a statement. Designer Scott Sternberg says: "A skinnier tie just feels of-the-moment right now. It's not too mainstream and not too traditional. And there's less material, so there's less potential for a color or pattern to feel garish or offensive… Right now, that's the mark of an individual." However, the scale of your tie should match the rest of your outfit: so skinny ties go with slim-cut suits with narrower lapels and shirts with slimmer collars.
Oscar Wilde – no sartorial slouch himself – noted that "a well-tied tie is the first serious step in life."
Although the tide of fashion ebbs and flows, a gentleman is still considered undressed if his neck is naked. Wearing a tie allows you to have the confidence to go wherever you like. A tie pulls together the disparate elements of your attire, either through a touch of texture or a splash of complementary colour.
A gentleman in 2016 should have a range of five different ties:
1) Wool: knitted ties are back!
2) Black: the formal-wear staple with a white shirt and even a leather or denim jacket, is so versatile
3) Polka dot is good but why not try the smarter and more subtle pin dot, too?
4) Paisley ties are excellent for style-with-a-smile
5) The "Repp" tie: the combination of stripes and colours that never fails.
For men, your tie is one of the first things that people will look at, so select accordingly. DQT have nearly 400 fantastic ties to choose from, whether plain, striped, floral, paisley or swirl; in silk or knitted, pure wool.
Check out are huge collection of ties here: http://www.dqt.co.uk/skinny-ties.html