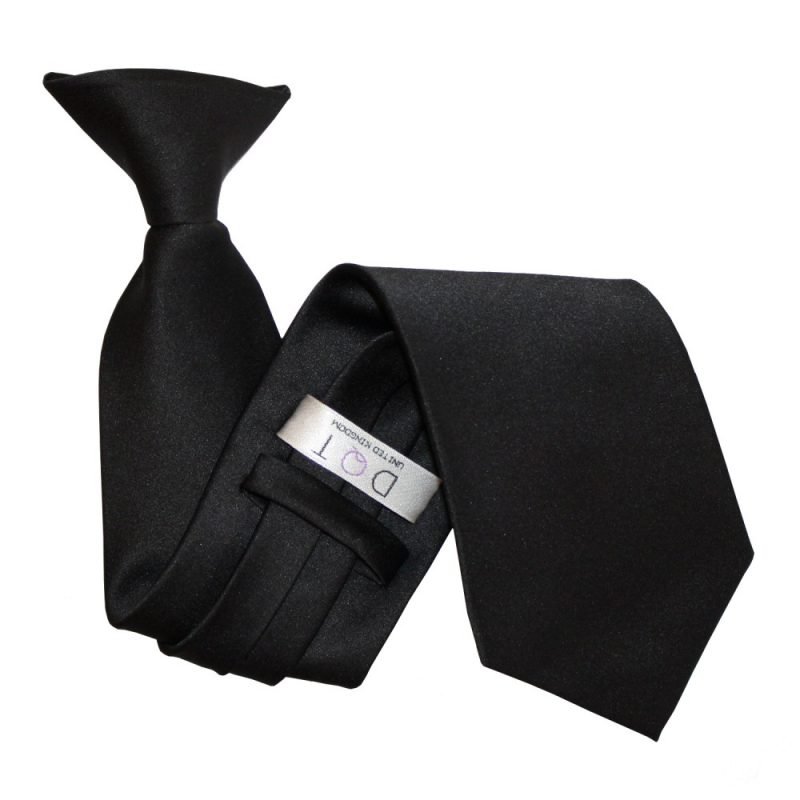 When choosing a tie, you have more to consider than colour and fabric. Clip on ties are a viable alternative to traditional ties and offer important benefits that make them a logical choice for many formal situations.
Clip on ties offer far more convenience and practicality than conventional ties and can save you time when preparing for work or a special occasion. By fitting snugly into the neckline of a straight collared shirt, DQT's clip on ties are fitted in seconds and are always guaranteed to be the right length with a perfect knot. Conventional ties can be awkward and fiddly to fit, with an uneven length and a fabric that has a tendency to wrinkle if repeatedly retied.
Clip on ties are also more comfortable to wear as they don't have a length that runs around the back of the neck which, in warm weather, can cause the collar to become itchy and unpleasant. With a clip on tie, the only fastening is at the front of the shirt under the chin; you'll never suffer from tightness around the neck or feel the need to loosen your tie and collar, which can look unkempt – definitely a look to be avoided in an important business meeting!
Clip on ties also offer an important safety aspect as they cannot become tangled and, if pulled, unclip easily. Some UK retailers opt for clip on ties as a standard part of their staff uniform, as do some schools; these ties will detach if pulled, thereby eliminating the chance of injury to the neck.
Some men prefer to wear conventional ties because they offer more flexibility than the clip on variety which has only one style of knot. Tying your tie in the way that you wish allows for personal styling, for example making the knot a little more voluminous than usual. A clip on tie has only one fixed design so will always look the same.
Also, a traditional tie can be adjusted quite easily so that the length complements your height or body size, whereas the clip on tie, while quicker to fasten in place, offers only one length which may not suit all wearers.
Whether you choose a conventional tie or a clip on version, you can be sure that DQT's extensive collection of attractive ties will be an essential addition to your wardrobe, Click Here to add a splash of panache and elegance to your outfit.