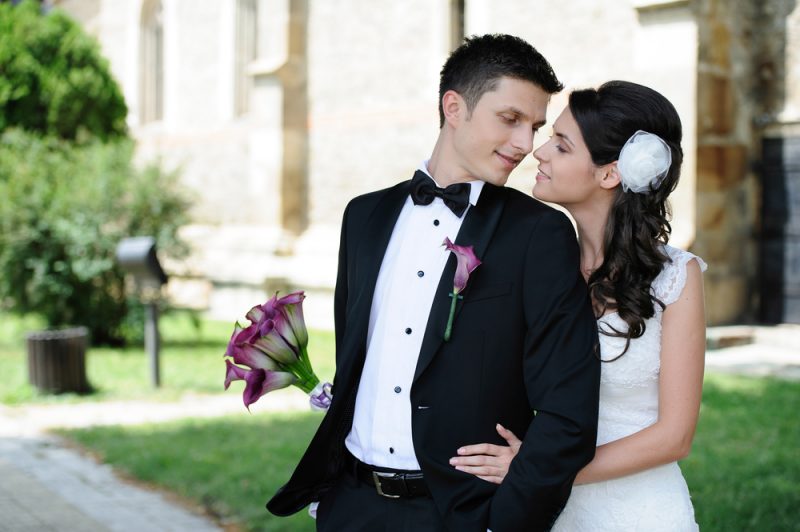 A summer wedding might be preferred by many, but a winter wedding inspires a magical charm that no other season can possibly capture. Snow white settings, cosy log fires and atmospheric candles create a romantic and warming vibe, whilst the colours of this season also mean you can dress in richer tones and textures.
For a magical winter wedding in December, you are spoiled for choice when it comes to wedding ties and wedding waistcoats from DQT. Just about any colour of tie will blend in harmoniously with this season, but favourite choices include gold, red, burgundy and orange. Classic colours such as white, ivory and black will also do justice to a winter wedding, and are popular options for formal styles of wedding attire.
As well as considering the colour of your wedding tie, think about texture, patterns and style for a winter wedding. Floral, paisley or swirl patterns give character and style to a tie, and are particularly well suited to winter weddings, where they will blend in with seasonal trends and create a focal point of any wedding attire. For something a little different that also gives a nod to the winter season, a wedding tie with a tartan pattern brings rich and earthy tones to your styling. During this colder time of year, think about materials, too. You can make use of thicker, warmer fabrics for a winter wedding, so if you don't want to stick to cotton or silk, be bold and opt for a knitted tie.
Waistcoats are the perfect choice for a wedding at any time of year, but will certainly look the part at a December ceremony. Choose warm, rich colours that reflect the trends of the season, with emphasis on tones such as gold, deep red, emerald green, black, ivory and silver. If you are unsure about selecting a vibrant colour, stick to classic tones but add character by choosing a men's wedding waistcoat with a distinctive pattern. Whether you choose diamond, floral, swirl or paisley, a patterned waistcoat from DQT can boost the style appeal of your winter wedding outfit.
Check out our wedding ties collection here: http://www.dqt.co.uk/wedding-ties.html